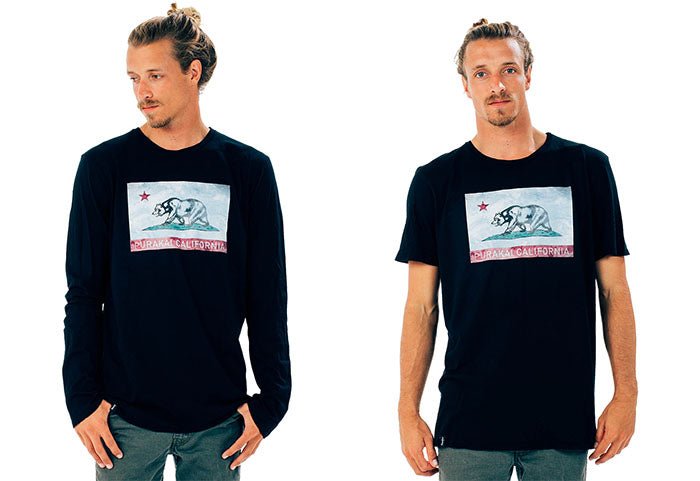 The Ocean Lovers Rules To Shopping Sustainable Fashion: A Gift Guide
As mentioned in our previous article, 8 Reasons Why Millenials Shop Sustainable Fashion, one of the biggest reasons we want you to be a mindful consumer is to protect and heal our environments. At Purakai, as surfers, our love of the water makes this statement the underlining reason for our existence!
We are committed to making all of our clothing locally in California from the most "Ocean Friendly" fabrics available and to using a portion of our revenue to help fund projects that heal and protect the world's oceans.

We want to stress these two key compoments to eco-friendly clothing:
     #1: Non-synthetic fibers are better for the environment. Synthetic fibers are cheaper for the manufacturer to produce, however, synthetic fibers are both polluting and energy-intensive. Shopping non-synthetic organic fibers promotes an increase in the environmental quality of the land and water during production.
     #2: Buying sustainable fashion spreads awareness for the environment. By promoting locally made and organically grown clothing brands you're sharing the message that quality matters. You're letting others know that, they too, should pay attention to how their clothing is made and who it affects. By shopping sustainable fashion you're decreasing pollution of our environment for future generations. 
If you're like us, don't you want to shop these eco-fashions today and help heal our oceans? This is Part 2 of the 'Sustainable Shopping Guide: Wear This Not That', here you'll find our favorite items to shop for the holiday's. Keep an eye out for the next issue to find out just what to buy and what not to buy!
Our BRAND NEW Purakai California Graphic comes in both our Organic Cotton Crew T-shirt and our Organic Cotton LongSleeve Crew in black. Celebrate PuraKai California with this Made in California Men's Long Sleeve Crew + Tee.
Here at Purakai we promote ethically produced products. Be a part of the change, and support California Made with a specifcally designed graphic that is created with respect to oceans and the land. It's made from lightweight 40/1 organic cotton and is one of the softest shirts you've ever worn.  
Like all of the Purakai shirts, this ocean-friendly, ultra-light 40/1 singles organic cotton shirt is ethically made in California, USA. Super Comfortable and soft, this round neck, long sleeve is a go-to for all seasons; Layering perfect in the cooler months and light-enough to wear on a cool summers night! Coming in basic and 3 different graphics, you have plenty of options to pick the right shirt for you and a friend!
     #1: The Rasta Long Sleeve Crew is perfect for an evening bonfire at the beach or in the mountains. Its lightweight feel makes it perfect for layering over a tee or under a hoodie. Forgot it in the woods after your camping trip? Don't sweat it!  All our organic cotton shirts are compostable.
     #2: The San Diego Coast Keeper Long Sleeve Crew is PuraKai's Long Sleeve Crew with a mission!  When you purchase this shirt $5 will be donated to San Diego CoastKeeper (sdcoastkeeper.org) to help monitor and fix pollution in our water.  If you are an ocean lover, this is your chance to support a major cause that will help heal and protect our waters and its wildlife. 
     #3: Purakai California (as shown above)
Purakai's Mid-Sleeve Soft Hemp Shirt is made from our new "AMAZINGLY COMFORTABLE" Soft Hemp-Organic Cotton Blend. It is the ultimate casual shirt for the Fall & Winter Seasons. The shirt is true to fit with virtually no shrinkage after numerous washings. Perfect for a casual day or even at the office. This Soft Hemp Shirt is a must-have for any girl-on-the-go!
Our Organic Cotton Split Tee is a wonderfully diverse top. Loose, long and lightweight - we designed this tee to be the perfect layer for sunrise practices, sunset flows & beachside hikes. The split sides and rounded bottoms allow for easy tucking during those more strenuous yoga poses. This breathable & soft organic fabric is completely ocean friendly and keeps you feeling great! The Organic Cotton Split Tee is the perfect top to take you from the gym or studio to home and everywhere in between. If you're a simple girl, the basic split tee is the perfect shirt for you or for someone you love.
However, don't forget about our other 3 ocean-minded graphics! 
     #1: Our Schooling Fish Split Tee embraces the gorgeous abstract design of a school of fish shaped into a fish tail.  This is the shirt for the ocean loving gal.  Its the right companion for days spent near the water with all the attributes you've come to love about our split tee.
     #2: Our Sailboat Split Tee is created by San Diego local artist, Mikail Tolmosoff.  Wear it casually to school, the beach or a park. Dress it up with some skinny jeans for an effortlesstly chic style. Also available as a tank. 
     #3: Anchors Away! The organic cotton Anchors Away Split Tee is a great top to show your love for all things ocean related. It is perfect for lounging at the beach or for a cocktail hour.  As most of our shirts, it is effortless to style.
This holiday season, rather than getting your friends and family just another shirt, purchase something that gives back! With just one purchase you'll not only be crossing names off your Christmas list, but you will be contributing to healing and protecting the world's oceans!