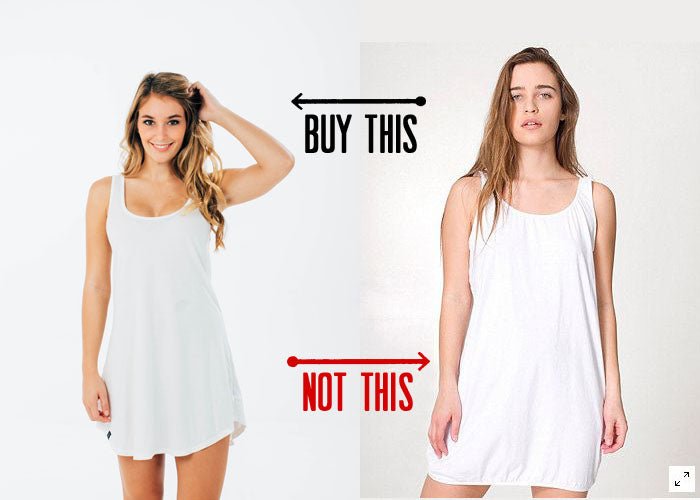 Sustainable Fashion Shopping Guide : Wear This Not That
Ok, so we've told you why you should shop sustainably and what the benefits are to shopping environmentally friendly clothing, now we're going to tell you exactly what to buy and what not to buy when wanting to shop sustainable fashion.
This is Part 1 of the 'Sustainable Shopping Guide: Wear This Not That', keep an eye out for the next issue to find out just what to shop and what to not! Right now, we'll cover 4 items, 2 for women and 2 for men, in this guide. Keep reading to learn exactly what to shop and why!
What is it that we look for in a good clothing brand? Comfort? Style? Quality? Why is it that we may prefer one store to another? Sometimes the reasons are not even apparent to us, except for the fact that it is out of habit.
However, do you know how much we could change this planet for the better if we became mindful consumers? Being a mindful consumer means knowing why you shop where you do. It means paying attention to where your clothing is grown, manufactured and sourced. It also means making a conscious decision to shop more environmentally sustainable fashion brands.
By making these mindful decisions, we begin to make a difference for the ocean, the people around us and the creature who live here. Here are some tips on what to shop if you want to be a mindful consumer.
With similiar shapes and colors, the American Apparel Tank Dress & the Purakai Soft Hemp Dress, have little difference in appearance. It's what's inside the fabric that makes a world of a difference, however. While the AA Tank Dress is made with regular jersey cotton, the Purkai dress is made with 60% soft hemp & 40% organic pima cotton. As mentioned in my last article, shopping sustainable fashion contributes to a better work quality for laborers, a safer environement and creates less pollution. And although the AA dress is $36 and the Purkai dress is $44, the extra $8 you spend, you're spending on our planet, ensuring that our oceans stay pure and our  clothing stays safe.
The imported, lyrca fabric of the LuLu Lemon Wunder Under Pant seems to be the ultimate yoga pant with it's technical feel and wide-waistband. However, the Purakai Organic Cotton Yoga Pant is a lightweight, non-see through, and 100% comfortable work-out pant. On top of the environmental qualities, the Purakai Yoga Pant is $53 cheaper than the LuLu Lemon Yoga Pants, and does, virtually, the exact same job. Don't compromise your love for the planet or your wallets, it's time to start sweating in our eco-friendly fabrics!
The Purakai Pocket Tee is a twist on a classic, with the contrasting pockets in complementing shades, you add a fun pop of color to your look. This shirt lends itself for layering and fits perfectly without stretching or losing form. It's soft & lightweight fabric will have you begging for more colors! In addition, It's 100% California Made out of Organic Pima Cotton, adding a, much valued, environmentally friendly quality to an already amazing shirt. On the other hand, the UO Pocket Tee, while being asthetically appealing, is made from imported, non-organic cotton at a higher cost! Not only do you save $26, but you do the environment a solid by choosing the Purakai Contrast Pocket Tee over the Urban Outfitters tee. 
Yes, the Alternative Apparel Crew is simple, $24 and comes in numerous colors. But what your sacrificing by choosing the Alternative Apparel crew over the Purakai Crew is more than just your money. For $4 more, you're purchasing a shirt that will outlast the other, a shirt that is created with the environment in mind, and is made 100% in California rather than being imported. Make the better choice, choose the ocean.
---
We're Committed to 7 Prinicples for the Benefit of Future Generations:
To make clothing 100% in the USA from the most "Ocean Friendly" fabrics available and to use a portion of our revenue to help fund projects that heal and protect the world's oceans.
To maintain a transparent supply chain where our customers can validate the source and sustainability from every thread of our clothing.
To protect our workforce, their families and the communities they work in by reducing their exposure to toxic chemicals in the cotton fields, dye house, screen printing and the rest of the supply chain.
To use only "Ocean Friendly" fabrics created from fibers grown without the use of synthetic pesticides such as organic cotton, hemp and Merino wool.
To use synthetic performance fabrics from recycled sources and only virgin synthetic fabrics when no other alternative exists and the fabric is required for an important part of the garments performance.
To offer an online shopping experience that allows our customers easily order our clothing and the ability to exchange it for any reason with minimal hassle.