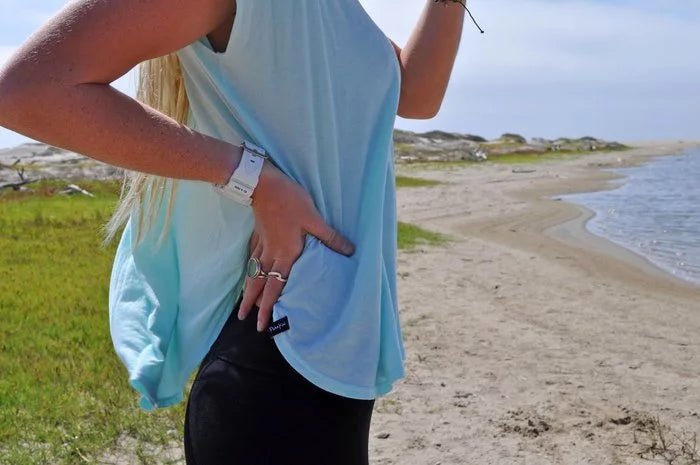 Why Millennials Do Care About Sustainable Fashion–From One Who Cares
As mentioned in my previous article, "8 Reasons Why Millennials Shop Sustainable Fashion", Millennials are the ideal audience for sustainable fashion brands because most believe that a brand speaks about who they are, what they believe in and how they live their life. As a millennial myself, I highly agree with this statement found in a BCG study about the US.
Being in my 20s, out of college, owning my own company and being heavily involved in fashion, my perspective on brands has changed heavily from when I was younger and merely into the latest trends. From the perspective of the "latest trends", it's obvious that locally made, organic & and even hand-made fashion brands are largely intertwining themselves into the more popular of shopping avenues, however, I believe it's more than that. To explain this, I've come up with four key examples as to why I care about sustainable fashion. These reasons, being heavily influenced by the times, the information and the availability.
#1 - Local & Sustainable is hip! What I mean by this, is that we're entering a period of fashion where key players in dictating the fashion trends are opting to purchase and promote from local and locally made boutiques, designers & brands over the well-known, widely popular chains. The idea that an article of clothing or accessory you own is more exclusive to the public because it's locally sold & made is attractive to many young fashionistas.
This same idea is helping people build their own unique style and self-image. This ties back to my point that "By purchasing sustainable fashion, you promote a better self-image." Not only is the brand you shop local or locally made, but they are creating their items sustainably, keeping the environment and others in mind. Through this, the followers of many up-coming and already-made fashion bloggers, models & icons, are emulating their choices with their closest options. Since many of the local & locally made designs cannot be purchased everywhere, this is allowing for a variety of style, an ability of having numerous brands doing similar things and a more unique quality to popular fashion.
#2 - San Diego Culture. Where you live is a huge factor in how you view eco-friendly fashion. For myself, I live in one of the most pro-environmental cities in California, San Diego. Because of the culture in the towns, the university and the people who live here, Sustainability is a big part of our lives. The ocean and the environment are a huge factor in why people live in San Diego in the first place.
People travel miles upon miles to experience the beaches, adventure along our hiking trails & immerse themselves in what we call a San Diego Life. The idea that clothing brands & companies are polluting these environmental beauties does not sit right with San Diegans and we make an effort to do something about it. No longer do we prefer to shop the toxic fashions of some big name brands, but instead we like to promote small businesses and sustainable living.
#3 - The Documentary Era and paying attention. As a young adult right now, we are being bombarded with environmental and animal equality documentaries. The difference, however, is that we are in an era where "paying attention" and "caring" are core fundamentals of our education! This is true for many subjects, such as women's rights, sexual harassment and environmental quality.
One of huge prominence, though, is environmental & animal quality. Beginning slightly before the release of Blackfish, an era of social influence began to arise. You can see this in the implementation of sustainability degrees & changes in Universities around the Nation. As a graduate of San Diego State University, I can attest that from the start of my freshman year to now, huge changes occurred in sustainability!
Some of these changes were the building of a LEED PLATINUM Student Union, 100% voted upon by the student body, the formation of a Sustainability degree, and the focus on environmental quality throughout the campus. It's because of these things, that you can see an obvious shift from just learning, to taking action. The fact is, young adults and this era are making prominent stands on big issues involving our envionrment and the quality of living for animals in the environment.
#4 - We Are Our Parents Children. Yes, schools no longer teach home economics, many kids do not learn how to sew when they are young and, yes, I had to learn by my mistakes on how to properly care for some of my clothing. However, I was raised by parents who did experience these things at a young age. I was raised by a mother who sewed my Halloween costumes, guess what, around the age of 16, I too began to sew my own Halloween costumes. Granted, not without the help of my mother, but soon after I was able to do it on my own.
I grew to love vintage, thrifted and sustainable clothing by watching my mother, by shopping in her closet and by seeing life from her perspective. That old adage "we all become our parents", well, it's true, our parents highly influence the young adults we are today. Most of our parents grew up in the "hippie" generation. I believe today's millennial era can greatly be described as "new-age hippies". We are not just protesting and spreading awareness though, we are taking the steps towards change, and that begins with sustainable fashion!
Aside from these reasons, there is one reason that is largely the culprit of them all. As a millennial, many of times, we're struggling to begin our adult lives, make enough money to live, etc. and living out our sustainable values becomes tough when buying organic produce is more expensive, and travelling sustainably can be time consuming.
However, switching to sustainable clothing is one of the easiest ways for Millennials to live their values. With not much of a price difference these days between sustainable and non-sustainable clothing, it's easy to switch from a cotton tee to an organic cotton tee. And with shipping fees becoming outrageous, shopping locally and locally made becomes simpler. Take this Urban Outfitters Scoop Neck Tee, for example. The tee is priced at $29 and made from non-organic cotton. You can purchase a sustainably made, organic cotton scoop neck tee from Purakai which is 100% Ocean Friendly for $28. Now tell me, why not buy the cheaper, better quality, environmentally friendly option? There is no reason, and the facts remain the same...sustainable fabrics is how we should shop!
The fact is, we do care and we are the change! Head over to Purakai.com and make the change to sustainable!