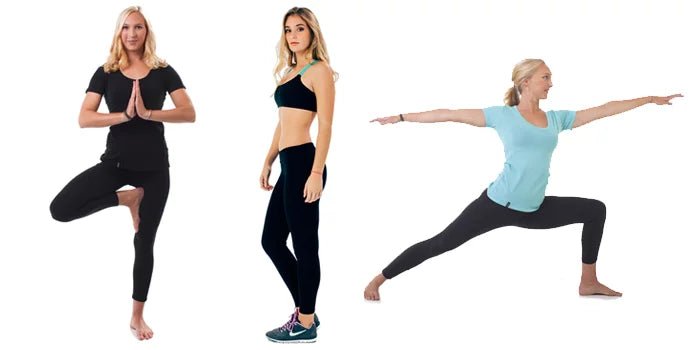 7 Benefits Of Buying Organic Cotton Yoga Clothing
"The purpose of yoga has always been to unite the mind, body, and spirit. According to Patanjali's Yoga Sutra, which dates all the way back to 200 AD, there are eight parts to practicing yoga, known as the eight limbs of yoga. All eight limbs are essential to achieving lasting peace, and no one limb is more important than the other. The physicality of yoga, or the Asanas, is only one of the eight parts that complete the practice of yoga." (source)
This ancient philosophy is the foundation of the yoga practices, however, we like to define ourselves as a "modern yogi", living our existence to the fullest! Yoga should do more than center you, it should inspire you to live a conscious life of honesty, simplicity and integrity. And with that, a conscious knowledge of how you affect the planet. 
Yoga is a journey, as a "modern yogi" for many this journey often times creates an awareness, mindfulness and connectedness about the health of not only ourselves, but the earth. This journey also leads to many making a conscious effort to shop organic foods, and then as they progress to look for organic cotton yoga clothing. Why? Well read below and you'll find the 7 benefits of buying Organic Cotton Yoga Clothing and where you should shop them. 

#1: Low-Impact Production: 
Growing, Making & Purchasing Organic Fabrics is great for the environment. Synthetic fibers are both polluting and energy-intensive. Shopping non-synthetic fibers promotes an increase in the environmental quality of the land and water during production. 
Organically produced fabrics are less polluting on the environment, and therefore, they are better for animals. When clothing like cotton is produced from GMO and conventional seeds they require tons of pesticides and herbicides, which end up runing off into the rivers, lakes and streams, and ultimately into the ocean and they also soak into the ground, wreaking havoc with the local eco-sytem and harming the animals that live there.  
Additionally, by shopping clothing made from locally grown, organic fabrics you are promoting an increase in work quality for farm laborers, because these workers aren't being exposed to cancer causing chemicals when working in the organic fields. When purchasing clothing made overseas, many times your clothing is being made by the cheapest sourced labor and the workers are in working in factories with deplorable conditions. 
As Yogi's our goal's are to become one with ourselves and our surroundings through peacefulness. How can you truly accomplish that if you're contributing to environmental pollution at the same time?
Learn more reasons why sustainable fashion is the better way to buy here. 


#2: Better For Your Own Health
When wearing organic clothing, you're wearing less chemicals. It's better for your body and health when you introduce less chemicals into your life. Shopping organic is not just better for the Earth, but for you!
More-so than just showing your unique style and fashion sense, by wearing sustainable fashion, you're showing the world that you care about others, the environment and that it matters to you where your clothing comes from and how it's produced. 
This goes along with what it means to be passionate about the yoga lifestyle. You care about your inner peace, as well as, the peace of your surroundings & home. 

#3: Longer Clothing Life
It may be cheaper to purchase synthetic fibers, but in the long run, it's cheaper to invest in quality because it will last longer through wear and wash. Non-synthetic fabrics that are not chemically produced have a higher lifespan than synthetic fibers. So the initial purchase may cost you slightly more, but you won't have to replace your clothing as quickly as if you purchased the cheaper, synthetic brand.
Doesn't it make sense to be sustainable in not only what you buy but how often you buy it?
#4: Comfortable & No Sheer Yoga Pants
The number one thing women want to avoid during yoga is see-through yoga pants. After months of testing we can truly say these are amazing! Not only are they amazingly comfortable, but they're thick enough to avoid any sheerness. True to size and zero shrinkage, these are the pants you've been looking for at a price you can afford. Don't compromise you're love for the planet or quality. Get a pair of the Purakai Organic Cotton Yoga Pants and get ready to center yourself. Namaste!


#5: Promote A Sustainable Living
Promoting locally made and organically grown clothing brands you're sharing the message that quality matters. You're letting others know that they too should pay attention to how their clothing is made and who it affects. By shopping sustainable fashion you're decreasing pollution of our environment for future generations. This is what it means to be a "modern yogi". 

#6: Lightweight & Airy Tops
Functionally, organic cotton yoga clothing is the ideal work out uniform for any yogi. This is because the lightweight, breathable fabric allows for you to sweat it out while still maintaining enough of an airy feel to stay comfortable. With 3 great options at Purakai, there is no way you won't find the right shirt for you!
Organic Cotton Scoop Neck | The Organic Cotton Scoop Neck has a round, low neck and is incredibly lightweight, soft and comfortable.
Organic Cotton Split Tee | Our Organic Cotton Split Tee is a wonderfully diverse top.  It has a wide round neck and a relaxed fit.  Its lightweight feel makes it ideal for those hot summer days at the beach.   It also makes a great addition to your work out wardrobe.  Wear it as a comfy top layer when working out at the gym.  Perfect for before and after yoga, spinning or pilates class.  Made of 40/1 singles fabric. 
Organic Cotton Easy Tank Top | The Easy Tank Top for Women has wide straps to perfectly conceal your bra.  Its round 'U' shaped finish at the bottom provides a more polished finish.  As all of our shirts, it is very lightweight, comfy and soft. Whether its winter or summer, this is the perfect layering shirt over any bottom!

#7: "Enlightening" Graphics: 
Our first official yoga design, the Lotus Flower Scoop Neck!  The lotus flower grows in muddy water, and it is this environment that gives forth the flower's first and most literal meaning: rising and blooming above the murk to achieve enlightenment.  You'll love this shirt because of its lightweight and breathability.  It will become part of your yoga & pilates uniform. What more can a yogi ask for?!
And there you have it, the 7 benefits to shopping Organic Yoga Clothing. Is there even a reason not to??