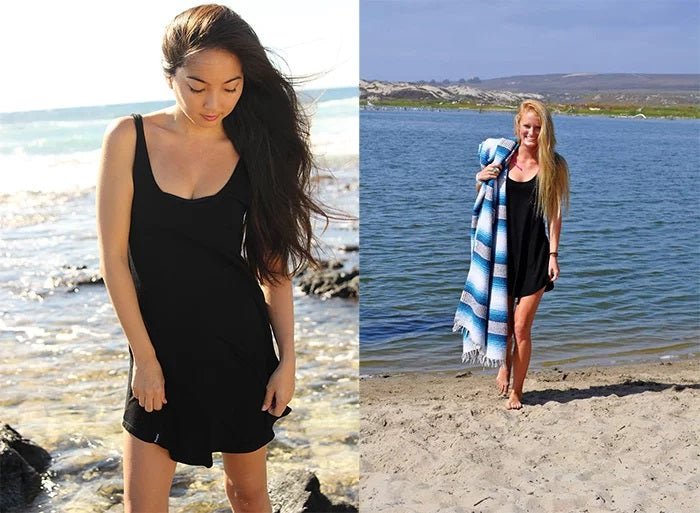 Women's Hemp Clothing: A Shopping Guide
As part of our brand mission, we're committed to 7 Principles for the Benefit of Future Generations. Two of these deal with the fabric used to make our clothing.
To make all of our clothing locally in California from the most "Ocean Friendly" fabrics available...

To use only "Ocean Friendly" fabrics created from fibers grown without the use of synthetic pesticides such as organic cotton, hemp and merino wool.
Today we want to talk to you about our Hemp Clothing for Women and what to pay attention to and why to shop these sustainable fabrics. 
What is Hemp? 
Hemp is a variety of the Cannabis sativa plant grown mostly for its seeds, fibers and oil. It is not marijuana. This plant is specifically bred for a low content of tetrahydrocannibanol (THC), the principal psychoactive agent in marijuana. It's used for everything from health food, fiber/textiles, building materials, paper, recycled plastic, body products and bio-fuel.
Why is a quality sustainable fabric? 
Hemp is an amazing natural fiber that grows without fertilizers and doesn't deplete the soil from its nutrients. In addition, it requires minimal attention, making it easy to harvest. On top of all of that, hemp is pest tolerant, which means it needs no agro-chemicals.
What makes Hemp a great fiber for clothing?
It's fibers are an incredibly strong and durable natural textile with the ability to keep its shape. Hemp fibers mix well with other elements, therefore textiles mixed with hemp fiber result in garments that are soft and warm, but much durable than textiles with 100% cotton or linen. This is due to hemp's fibers high cellulose content. 
In layman's terms, 5 reasons you should shop hemp clothing are...
Is Easy to Produce

Is Environmental Friendly

Creates durable fabric

Clothing keeps it's shape

Is incredibly soft and breathable
Now that you have all this useful information, what do you do with it? We suggest checking out what we have to offer without Hemp Clothing for Women below!
Meet the ultimate eco-friendly dress!  The PuraKai Women's Hemp Dress is a must-have in your wardrobe year round.  It so versatile!  Pair it with heels and a structured jacket for a night out in town.  Try it with boots and a head wrap for a boho chic look.  Wear it over your bathing suit during the summer or layer it with Yoga Leggings for a fashionable, yet comfy look during chilly months.  The possibilities are endless!
Hand Made in California from 60% Soft Hemp and 40% "Ocean Friendly" Organic Pima Cotton
#2 Purakai Mid-Sleeve Soft Hemp Shirt
PuraKai's Mid-Sleeve Soft Hemp Shirt is made from our new "Amazingly Comfortable" Soft Hemp-Organic Cotton blend.  It is the ultimate upscale casual shirt for the Fall & Winter seasons. The shirt is true to fit with virtually no shrinkage after numerous washings. Get your accessories out and get ready to play dress up!
Hand Made in California from 60% Soft Hemp and 40% "Ocean Friendly" Organic Pima Cotton