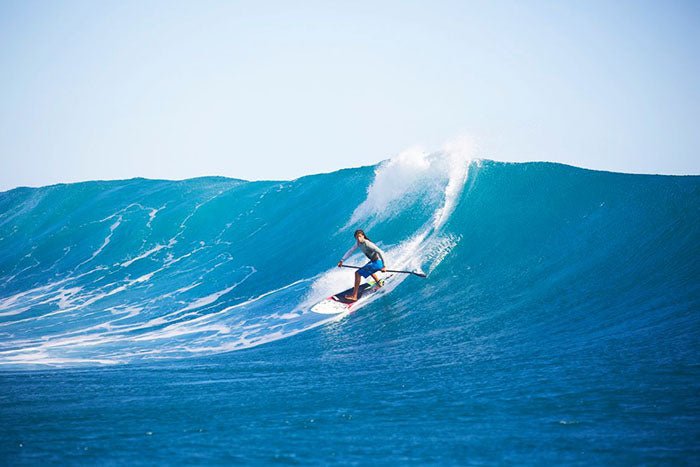 Why Surfers Should Invest In Surf Clothing For A Pure Ocean
The industry of surfing is built upon the idea that we are one with nature & the ocean. However, many of the surf industry's elements are the most contributing factors to pollution of our oceans. The idea of "sustainability" is gaining popularity in mainstream surfing, but there still lies a link between environmental problems and the surf lifestyle.
What can surfers do to stop the "wave of waste" from taking over our beloved oceans? It's obvious that we, as surfers, need to increase our responsibility efforts for cleaning up and protecting our oceans. It's important that not only we understand the effects on the waters, but build an awareness for others who don't understand.
Fast fashion's problems are extensive and contributing to the issues. This ranges from poor working conditions for laborers, the environmental impact of how the fabrics are grown & made and the waste caused by the "throwaway culture". This also is important for surf companies.
Surfing is about creating a bond with nature, so then why do surf companies contribute to destroying them? The hypocrisy of being an "ocean lover" needs to be broken once and for all!  Surf companies should be focusing on the sustainability of the fabrics, reducing water use, workers' rights and how their product affects the oceans. 
"So what are surf clothing companies, so closely reliant on both thriving sales and thriving oceans, doing to set the standard?" Purakai is one of these surf-wear companies that is leading the way to a more ocean-friendly lifestyle. We are showing others in the surfing industry that it is, indeed, possible to create fashionable & sustainable clothing. You're able to get beautiful designs with great fabrics at fair prices.
"Surfer Responsibility" is being aware of how your lifestyle affects what you call "home", investing in & supporting companies and efforts that are making your "home"—the oceans—cleaner, safer and healthier. Healthy oceans equal happy swimmers, happy swimmers equal happy surf companies; it's a simple fact.
"Swelling from a wave of popularity," surfers and the surf industry are bringing about an era of change in the fashion world. Their environmental action as begun to engage not only those directly connected to the oceans, such as surfers and surf clothing, but those outside the realm of the surfing industry, and just merely in the fashion industry.
If surfers truly care about the ocean, than this is a necessary change and needs a genuine commitment to reduce the negative impact on the environment.