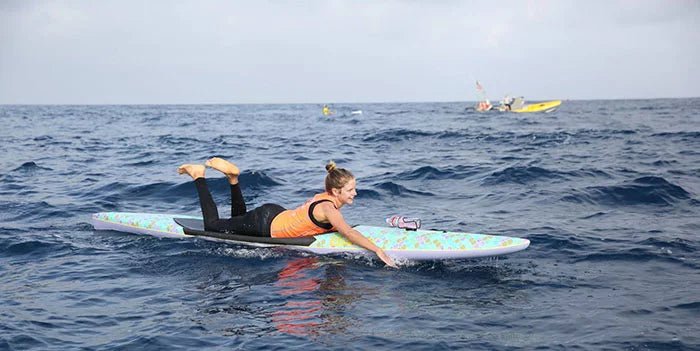 Introducing Natalie Foote | Purakai Ocean Ambassador
A Little Background
Natalie Foote was born, raised, and continues to currently live on Catalina Island, 26mi off the coast of LA. She live on the west end of the island in a small beach community called Two Harbors. Its the perfect place if you love paddling, spear fishing, sailing, hiking, adventures, and pretty much anything outdoors or on the water. Natalie works at the local restaurant and does events and marketing. She loves meeting like-minded people and sharing the PuraKai message with everyone she meets!
Natalie's specialties include being an endurance athlete, prone paddle boarder, adventure enthusiast, holistic/real food nerdand environmental conservationist. Natalie is Purakai blogger and lifestyle representative. 
Find Natalie on Facebook and Pinterest.

A Little Q & A With Natalie
What do you love about Purakai? I love being a PuraKai ambassador because I love the mission and values that are the foundation of the company. Not only are they creating responsible threads that are environmentally safe, but they also are giving back in so many quality ways. I have always had a passion for life on the ocean and am honored to be apart of a team that shares in that passion. Being apart of PuraKai and writing for the PuraKai blog has also been a great opportunity to share and educate others about environmental/ocean conservation and its relation to consumerism. It has also made me feel a deep sense of accountability to do my part in using my passions to help make the world a better, cleaner place. I have so much respect for all the efforts that have gone into making this company. PuraKai Rocks!
What do you do to protect the ocean? As a PuraKai athlete, I race in their honor and aim to share their message with those I meet. As I continue to work with PuraKai, I would love to set up or be involved in more volunteer projects, and have been doing local beach clean-ups on the island. I have even talked to Noel about a major trash clean-up project in Bali, call Project Clean Uluwatu. I look forward to continuing to write blog articles for both my blog "Living an ocean inspired life" on the PuraKai website as well as for the "All Things Eco-Friendly" blog. I am happy to promote PuraKai and their mission every chance I can:) and am hoping to be working for the company starting this winter so that I can do more!
NATALIE'S PURKAI PICKS:
&
 Learn more about Natalie's Ocean Inspired Life on the Purakai Blog | The Ocean & Me