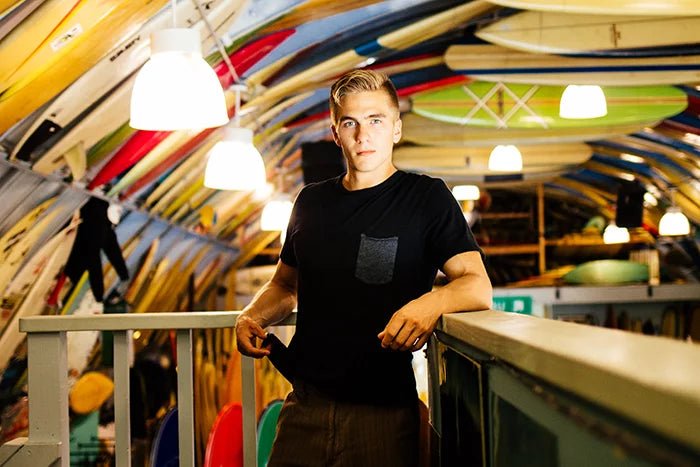 How To Style A Basic Tee | For Men & Women
SO YOU WANT TO WEAR A BASIC TEE...
A basic tee can be worn for so many different occasion. It's easy to think of a t-shirt as a basic lounge-wear item, however, this classic piece can be styled the right way to make you look hot whereever you'll be going.
There are so many styles to the basic tee. You can opt for crew or v-neck, cap sleeved and longer sleeves, form-fitting or loose. No matter what the style you prefer, we're here to help you perfect the basic tee look with a few simiple tips. 
---

HERE IS HOW TO EASILY WEAR A BASIC T-SHIRT ANYWHERE...
Step 1: Determine where you'll be going.
This is important to determine in which direction your style is going to go. If you're going to the beach, it's obvious you'll be more casual than if you were heading to a dinner date. Determining the style of the destination is the best way to make sure you're heading in the right direction when putting together your look.
Step 2: Choosing the right bottoms + outerwear.
From Step 1, you'll be able to better understand where you should go for your outfit. Let's say we're heading to the beach...that means you'll most likely want to pair your basic tee with some shorts or swim wear, and depending on the season/weather, you might want to grab a light sweater or flannel to cover up after hit the waves. However, on the other hand, if you're heading to a dinner date a pair of great fitting pants would pair perfectly with your basic tee. You can even dress it up further with some dressier shoes. 
Step 3: Is the color combination right?
Is the basic tee a neutral color or are you going bold? This is important because if your shirt is neutral, feel free to go a little bolder in your other pieces. However, if you're going with a bright or colorful shirt, it's best to keep the rest of your look neutral. You don't want to come out looking like a clown do you now?
Step 4: Can you throw in any accessories?
Depending on where you're heading, accessories can help assist in perfecting your basic tee look. For the beach, the right sunnies and hat can easily complete the look. Or for another occasion you may want to throw on a watch or scarf to compliment the look. Don't be afraid to accesorize. 
Step 5: Wrapping Up
Now that you've got the basic knowledge of dressing a basic tee it's important to have the confidence to rock it. A basic tee calls for a little attitude and I know you got it!!
---

NOW YOU'RE READY!!
Now that you've mastered the basic tee look we are here to suggest some great fits, colors and cuts to add to your wardrobe!!
---