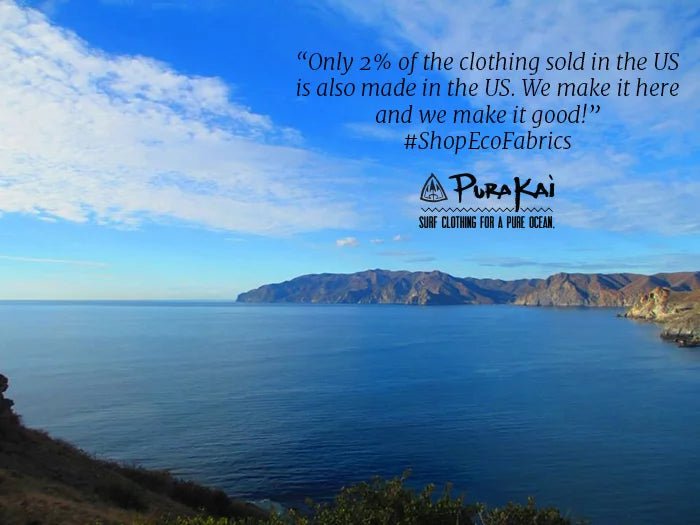 The PuraKai "Clean Closet" Challenge
It's the new craze taking the world and social media by storm, the "challenge". While I have yet to participate in any, I have seen several of all genres. From preforming a certain exercise, a set number of times, for a set amount of days, to dumping a bucket of ice water over your head to raise awareness for a good cause. Once the challenge is accomplished, the participant then challenges several friends to do the same, and before you know it everyone is doing the "_______" challenge. Seems like a fun, successful way to spread the word about a positive idea, and from what I've observed, people love to
 take them on!
So, here is my challenge to you. I call it the 
"Clean Closet" Challenge
. No, this is not a challenge to see if you can better organize what's in your closet, but 
a challenge to become aware of what is in your closet, where it comes from, and how it is made.
I challenge you to purchase your next outfit or article of clothing from a sustainable, organic, and eco-friendly source.

  And if you want to take it one step farther, purchase it from a local company. When you purchase your clothing from such a source, you and the planet benefit in many ways. 
By educating yourself about these principles and why they are a better choice, the challenge to choose eco-friendly over conventional will be easy. Very little clothing is made in a sustainable way. In fact, conventional cotton grown in California receives a dusting of over 6.9 million pounds of chemicals every year! Yikes! And it is proven that extensive use of intensive fertilizers, soil additives, defoliants and other substances have terrible effects on soil, water, air, the people that grow it, the people that wear it, and many, many living things. In addition to toxic cotton, conventional clothing is also laced with harmful, irritating chemicals and dyes which when worn, transfer onto your skin and are absorbed into the body. Sadly, 5 of the top 9 pesticides used on cotton in California are known to cause cancer.
When you choose organic, sustainable, eco-friendly made clothing, you are protecting your wellbeing and the wellbeing of the planet! While it may cost you a bit more, it pays off in the long run. Organic materials are not only softer against your skin, but they are more durable than their cheaply constructed counterparts. When your clothes last longer, you don't need to buy new ones as frequently, which saves you money and reduces your carbon footprint. Score, for you! Score for the planet!
Want to take the "Clean Closet" Challenge now? I bet you do! So, the next time you are out and about looking for a new shirt or dress, do some research before and you might be surprised that this challenge isn't all that difficult! Chances are, not only will you succeed in finding something that meets the requirements, but you will succeed in finding your new favorite piece of stylish clothing! The last piece of clothing I purchased was my PuraKai organic cotton yoga pants, and I wear them all the time! I've taken the challenge and its change my whole outlook on shopping.Now, I challenge you and 5 of your friends! It's time we make our closets a "cleaner" place!
Share the message with these images below: