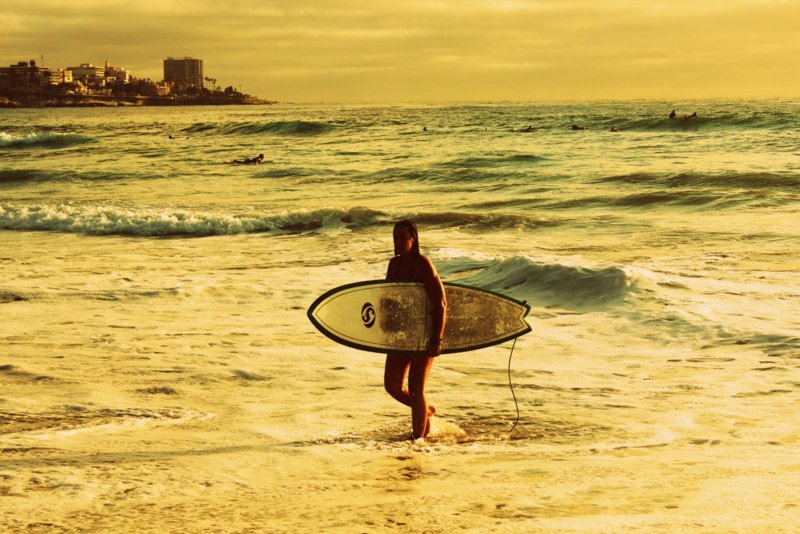 Water & Earth Series: Surfer Yoga Instructor Chandin Francis
Chandin Frances is an amazing surfer, yoga instructor, Starbuck's barista, wife and business owner of Lokavindu Yoga in the heart of San Diego's Old Town. We spoke to Chandin about what it is that connects yoga and surfing, further more, how that co-relation affects her approach to living a sustainable lifestyle.
Chandin is a Southern California girl and photography aficionado. Born in Palm Springs and raised in Hemet, she traveled to San Diego 14 years ago and has settle here with her husband. She found surfing early on and quickly became a passion and a lifestyle. She joined Surf Diva in La Jolla, Californa to fulfill her desire to teach and share with others what the world of surfing has to offer. Chandin is also a Stand Up Paddle (SUP) instructor. One of her joys as a teacher is to observe someone pop up on their first wave and see the excitement in their faces. She lives for those moments of sheer happiness.
A few years later, Chandin was introduced to yoga and realized she was about to embark on another life long journey. Her compassion for others, along with her desire to help led her to her first Yoga Teacher Training (YTT). She completed her 200 hour YTT from Core Power and continued her education by receiving her 300 hour YTT certification with Cloud Nine Yoga. During her time completing her 300 hour YTT, she also became a certified Reiki Master. As if that wasn't enough Chandin has also completed a training in Yoga Therapy from Prana Yoga Center in La Jolla. This Pacific Beach resident is as smart as they come. She graduated with highest honors from the Art Institute of California in San Diego with a degree in Advertising which culminated in her dream of opening Lokavindu Yoga.
We decided to ask this ocean loving yogini a few questions about her love for ocean sports, yoga and the Earth:
What is it about yoga that marries so well with surfing and stand up paddleboarding?
They all can be a way to allow someone to meditate. They can draw you in so deep that no other thoughts can come in. Yoga prepares the body physically for both sports and mentally allows you to get connect with the body and its movement. There are even similar postures in yoga that are mimicked in surfing. For example Cobra, upward facing dog, low lunge, and warrior II.
What are your favorite yoga poses to improve surfing and SUP?
Cobra, Plank, and Downward Facing Dog.
What is your favorite surfing spot (local & abroad)?
Scripps Beach in La Jolla and Ragland in New Zealand
You're an avid traveler. What is your favorite yoga/surfing retreat?
I have had the privilege of traveling around Europe, Indonesia, Asia... but New Zealand!
What is your one Eco advice to help protect our oceans and the environment?
Being aware of what chemicals we are using in our homes and what goes down our drains. Being clean with our products is good for body's and mother nature.
Chandin and I met in the most fascinating way because when you ask the Universe for something it conspires to allow your dreams to flourish. We were introduced by Roy Waters, a Certified Feldenkrais Practitioner and owner of Gravity Lab whom I had met last year when I naively thought I was ready to open my own yoga studio. Although it wasn't the right time for me to embark on such a financial commitment, Roy and I remained connected by our vision for such shared space. Fast forward a year later and I get an email from Roy introducing me to Chandin Francis his current business partner and owner of Lokavindu Yoga. As they say, the rest is history.
Chandin and I will be collaborating together as Soul Warrior Yoga will become part of Lokavindu Yoga's schedule starting March 2015. For more information on you can visit www.lokavinduyoga.com or www.soulwarrioryoga.wordpress.com
Remember that we are in constant communion with the Earth and the ocean, such as we are in constant balance with body and spirit. It is this never ending exchange that unites us as one. At PuraKai we believe that we are all connected through water and earth. We enjoy showcasing athletes who live their lives with such principles. Check out our previous Water & Earth Ambassadors. Our designs are made to maintain a healthy exchange with nature without sacrificing quality and design. Support organic, sustainable, made in USA... buy PuraKai.