Article: My Conversation with a Seal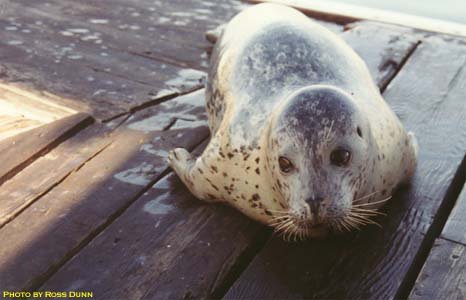 My Conversation with a Seal
Yesterday I decided to leave my office to get some exercise and soak up some Vitamin D. After looking at the surf and talking with friends about the visibility and prospects of spearing some fish, I decided the best option would be to hop on a stand up paddle board and go for a paddle. 
Throughout my life the ocean has been a safe haven, it's been the one constant throughout the trials and tribulations in my life. Whenever I spend time surfing, freediving, spearfishing, and now stand up paddling, I feel better about myself and the world around me, it brings me a peace I simply can't find on land.
Maybe it's because I grew up on a barrier island six miles at sea, or maybe all humans are supposed to resonate with the ocean, I'm not sure, but I know the plentiful negative ions of ocean air gives our moods a boost and somewhere in our genome we have ancestors from the sea, so perhaps we all benefit from time near the ocean.  
After grabbing my paddle board and paddle I dropped it in near several boats and made my way through the marina and out the channel to open water. After a lengthy paddle into the wind I turned around and headed back in, as I got close to the docks I saw a seal. I slowly paddled over and looked at him closely. 
I looked deep into his eyes and I felt I could see all of mankind, his look was one of innocence and kindness, and I could see he meant no harm, and so started my conversation with a seal, at first he was reluctant to speak and then he quietly said:
"I appreciate you taking the time to look me in the eye, for most of your kind just look and say goodbye. 
I see you mean me no harm, but I must tell you what I fear, and that is your kind will take away my kind, and that the end may be near. 
For millions of years we have roamed the seas from pole to pole, not long ago the ocean was filled with fish, the ocean was whole.
But in just a short time the seas have been emptied of fish, replaced with plastic debris, which leaves me with just one wish. 
Please tell your human friends on land that you see, that billions of big and small creatures live in here with me.
With over seven billion of you eating seafood as you wish, we can't sustain our ecosystem and healthy populations of fish. 
You humans just take and take and there is no end in sight, I truly wonder if you understand your plight.
While taking fish to feed your family makes perfect sense, taking too much comes at your own expense.
You see we're all connected on land and sea, and when you look me in the eye, all mankind is what you see."
After this the seal sighed and closed his eyes, I paused for a moment to gather my thoughts and then slowly paddled back to the dock. As I put the board back on the rack and walked back to my SUV, it dawned on me that I may not be living the life I should be living, that I should be spending less time taking, and more time giving.
I thought long and hard about what I should do, and then it came to me, and I knew what path to take. My friends and family love the ocean and they love to surf, fish, spearfish, freedive and stand up paddle, they respect Mother Ocean and all the creatures in it.
So today the company PuraKai is born. The mission will be to produce and sell products to those who love the water, to select products that are the least impactful to our oceans, and to return a portion of our sales to non-profits.
And we'll start the search to assemble a team of the best athletes to represent our brand. Individuals that are not only great athletes, but individuals that are passionate about educating others and creating awareness about the environmental challenges we face. 
We hope to build PuraKai into something special in the coming months and years. I would love to hear the thoughts from anyone that might be able to help with product ideas, companies with products that we could sell, or individuals that would make great ambassadors for the PuraKai brand. 
Sincerely,
Team PuraKai