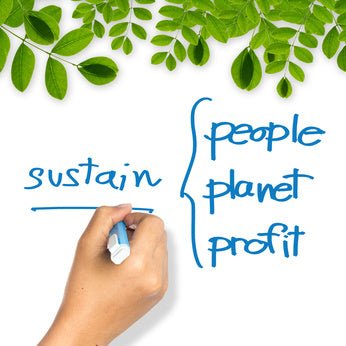 Eco-conscious Brands: How the Organic Trend is Growing
As a child I used to love seeing my mom getting dressed in her best "Dynasty" gowns. She always looked so polished and beautiful. My grandmother was certainly a diva in her own right. I could spend hours going through her jewelry, trying on her shoes and organizing her purses and scarves. That's where my love for fashion was born. I enjoy playing dress up and letting my many personalities shine through with different looks. Its a simple form of artistic expression. After joining the PuraKai family and broadening my knowledge in the world of Organic Clothing made in the USA, the journalist within decided to do a little research and find out other companies who are doing their part in the production of sustainable fashion.
To my delight, there are plenty of contributors to this cause inhabiting all realms of fashion. These designers and their brands are putting their love for the Earth first, without compromising the integrity of their art. I am not talking about yoga pants, I'm talking about head to toe looks that challenges the perception of what Organic & Recyclable Clothing is. Some of these brands have expanded their mission statements to certify that their garments are made in an Eco-conscious manner and under transparency processes that ensures the wellbeing of those engaged in the manufacturing of the clothes.
When you hear Eco-friendly brands your first thought is organic cotton, bambu, hemp and low impact dyes. It is, but that is only one aspect related to the raw materials used in manufacturing. The truth is that sustainability and protection of the environment goes much further than that. It includes local sourcing, along with fair trade practices based on human rights. It means making small quantities of garments to avoid pollution related to over production. It also means reclaiming materials and embracing a zero waste policy. Brands like Sanuk and Coclico cover the shoe department with completely different aesthetics. Sanuk is a Southern California brand that offers casual sandals made from inner tubes and indoor-outdoor carpet. While Coclico designs are modern and classic, with a higher end feeling. Coclico employs the use of organic linens, recycled cork, recycled foam, wood, non-chrome leather lining and lead/nickel free hardware.
Some brands contribute to philanthropic causes. Such is the case of Loomstate, who is as committed in the use of organic cotton, as they are in their projects Surfers Healing and Sandy Recovery. They are also supporters of Fashion Revolution, a day to honor the factory workers who perished in the Rana Plaza Factory collapse in Bangladesh on April 24th, 2013. Over 1100 fell victim and another 2500 were injured in what has been dimmed as the deadliest garment factory incident in history. Fashion Revolution Day is asking that on the anniversary of the tragedy participants turn their clothes inside out to display where it was made, photographing it and sharing it via the hashtag #insideout.
The Bangladesh incident was met with an outcry by human rights groups. Brands like Patagonia have embraced the Corporate Responsibility model to guarantee that tragedies like that are avoided in the future. By adopting  fair trade practices in their factories, the mountaineering brand is striving to be an example within the industry. Producing their garbs under safe, fair, legal and humane working conditions throughout the supply chain.
Other Organic Clothing brands are creating their own causes along the way. Maiden Nation is the founder of the Maisha Collective, an initiative that helps refugee women through the creation and sale of hand dyed scarfs & textiles. Maiden Nation is an international effort with centers in India, Haiti, Colombia, Cambodia and USA, among other countries. Names like Gloria Steinem and Yoko One have contributed as designers to raise money for Maiden Nation's programs.
Continuing with wise proposals within the Organic Clothing community is Kaight and Helpsy. Just like a museum shows art pieces from different artists, these websites are curated with a diverse collection of garments by different environmentally conscious up-and-coming designers. They offer a wide range of style, materials and options for male and female. Kaight also has its own store in Brooklyn, NY.
The Organic Clothing trend is not limited to casual wear. Renowned designer Stella McCartney has found financial success, as well as accolades from her piers in the high ranks of the fashion industry. She even won the British Designer of the Year Award while staying true to her self-described responsible, honest and modern approach. McCartney, a vegan herself, utilizes organic cotton, wind energy and no PVC's in the manufacturing of her clothes. Freedom of Animals is another vegan brand that focuses on cruelty free high end luxury purses, made in USA.
As you can tell there is plenty to offer when it comes to Organic Clothing. Even big retailer H&M has come up with the "Conscious Collection", while surf clothes authority Billabong released the "Recycled Series". At PuraKai we believe in showcasing other brands that share the common purpose of responsible fashion for the Environment.  By sharing information about our peers, we fulfill our mission of healing and protecting our oceans and soil.  The fashion industry is starting to get it and it just makes my little shop-o-holic heart skip a beat. Even if some of these designers and brands are just jumping on the Organic bandwagon, I'll take it for team Earth.