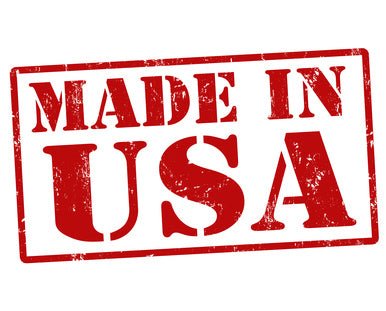 7 reasons why 'Made in USA' clothing is better
Anyone who knows me knows I love to shop. The excitement of the hunt, the thrill of the find and the satisfaction of a great price! Those little moments make me smile on the inside. Since working for PuraKai my shopping trips have become a little different. I've learned so much about the environmental importance of organic clothing, especially clothes made in the USA. I automatically check the labels on the clothes now, and not just for laundry instructions. It is something I would've never done 2 months ago.
Recently I went shopping with my friend Angela for a dress she would wear to a friend's wedding. While browsing around she found this really great outfit. Surprisingly what excited her the most about it wasn't the price, but the fact that it was made in the USA. I was so proud and excited. I knew that like her, more and more consumers are paying attention to where their products are being manufactured and the impact that it has on our society as a whole.
Therefore I have made a list of the top 7 reasons why products made in the USA are a better option than those made overseas and why supporting them is a win-win for everyone:
Strengthen the economy: In order to support local economy it is important to foster American manufacturing. Corporations that take their sourcing outside the USA, not only take the jobs with them, they also take our ability to excel and cement a reputation as a reliable source within that industry. Taking companies overseas decreases the amount of revenue that comes back into our economy.
Create more jobs: When you purchase products made in the USA you contribute to the creation of American jobs. For every manufacturing job, 5 more jobs can be created. When people make money, they spend money! The reciprocity between earning and spending capital maintains a healthy economy. The higher the national employment percentage is, the more we continue to invest in our economy.
Self sufficiency: The US engages in trade with many nations in order to satisfy the demand of items that are not manufactured in America. In turn, we become dependent on other countries to provide particular products. This leaves us vulnerable to accessibility, especially if there is any type of warlike issues with said countries. As a result we allow our economy to debilitate and are forced to borrow capital from another countries, which continues to increase our national debt.
Human rights: Labor standards in other countries do not ensure the safety and compensation of their workers. Many countries do not follow 'fair trade' practices or laws. They have no labor restrictions regarding age, amount of hours or minimum wage compensation. When we purchase products that do not guarantee 'fair trade', we are silent contributors of human exploitation.
Protecting the environment: US ecological standards are much higher than many countries manufacturing our products, where no environmental regulations are enforced. In addition, their products have to be transferred to America which not only increases the price due to shipping, but also leaves a significant footprint as a result of gas emissions and wasted petroleum. When you buy items made in the USA, you know that their carbon footprint and overall impact on Mother Earth is regulated.
Product quality: Safety standards in the USA are exceptional. Small businesses, aka, mom & pops shops produce some of the highest quality products available. They honor the artisan tradition that had become almost extinct as a result of mass production.
Patriotism: We live in a wonderful country!! And it makes total sense to make it an even better country by supporting local industries, jobs & economical growth.
At PuraKai we are commited to local sourcing.  From materials to manufacturing, our entire process is done 100% in the USA with complete transperancy.
What clothing companies do you endorse that are made in USA?  Share your favorites with us!