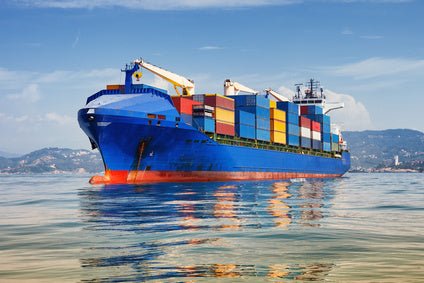 The Shipping Industry: Impact on our Oceans
One of my favorite things about going back home to Puerto Rico is spending endless hours by the ocean. It is a love my mother installed in my sister and I from a young age, one that we may never shake off. As we've become older our passion for protecting our beaches and reduce environmental footprint has also deepened. This is why after watching an episode of TED regarding the shipping industry impact on our oceans, I felt compelled to research further and share some thoughts.
The TED episode is called Inside the Secret Shipping Industry and the speaker is famed British journalist and author Rose George. Her latest book is Ninety Percent of Everything: Inside Shipping, the Invisible Industry that Puts Clothes on your Back, Gas in your Car and Food on your Table, in which she travels aboard the container ship Maersk Line's Kendal for five weeks. George shines light on a multi billion dollar industry that controls 90% of the world's trade and the environmental consequences it carries.
Container shipping came to international use in 1966 and since then the shipping industry has quadrupled. There is an estimated 100,000 working vessels currently at sea. What is alarming about it is that approximately 4%, of the 5% total of global carbon emissions comes from those vessels. Fifteen of the largest shipping ships alone produce the same amount of carbon emissions as all the cars in the world... yes, in the world. The International Maritime Organization, IMO, estimates that these numbers will increase to as much as 72% by 2020, that's only 6 years from now.
According to the Australian Government Department of the Environment, the top 10 causes of ocean pollution due to shipping are:
ballast water discharge
use of anti fouling paints
marine debris disposal
oil spills from routine activities or accidental incidents
hazardous, chemical and radioactive material spills
physical damage to marine habitats
noise emissions; and
air emissions
Besides the more obvious sources of pollution like disposal of waste, chemicals and oil spills, there is also noise emissions, also known as shipping noises. These have had a marked effect on the acoustic habitat of the ocean, affecting creatures such as whales and dolphins who communicate through sound. The noise from propellers can prevent certain species from mating, even feeding. Although there are a lot of proposals and legislatures on the works, there are currently no laws in place to control acoustic pollution. A sad example of the effects of acoustic pollutions is the North Atlantic Right Whale, whose population has dropped by 90%.
In the U.S. 98% of clothes are imported, making the fashion industry a significant component in perpetuating shipping's impact on our oceans and other Eco systems. This is why PuraKai's sourcing system is completely made in USA, with 100% transparency practices. At PuraKai we are committed in the conservation of our oceans and water ways through the support of SD CoastKeepers and Billion Baby Turtles programs.
As I grow older and my yoga practice deepens I realize how much my level of consciousness about the environment has increased.  I've come to the conclusion that my actions and omissions are  choices that affect everything and everyone I come in contact with, including the ocean and environment.  This commitment with myself to be a conscious-driven individual makes me proud of myself.  I know I'm doing my part in protecting the ocean and I think my mom would approve.
What  organizations do know that are doing a wonderful job at healing and protecting our oceans? We would love to hear your opinion.