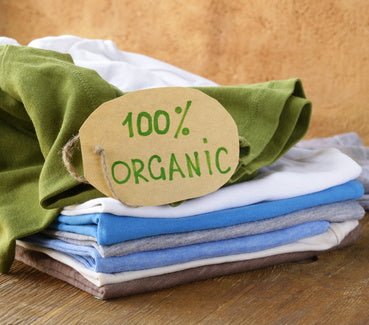 Consumption without Consequences: Organic Cotton Clothing
Back in June when I first started the journey to become a Socially Responsible Entrepreneur I had no idea what product or service I was going to create. The only thing I knew was I needed a business idea that was bigger than just making a profit, and it had to be an idea that would help heal and protect the oceans, lakes, rivers, and streams. I felt it was important for me to create a business that was focused on protecting the water because being in, on, and under the the water has been a lifelong obsession. 
While searching for the "best business idea" I spent a lot of time talking with friends, family, and other socially responsible entrepreneurs. In talking with folks it was surprising to learn there was a seemingly large and ever growing movement of awakened consumers who were ready to embrace businesses that created "environmentally friendly" products. It appeared if a business could create an authentic "environmentally friendly" product, and then communicate the story well, consumers were eager to embrace and support the business. It seems environmental awareness is no longer limited to the fringe, if done properly green products can now reach the mainstream consumer. 
I think we're all starting to realize the old model of "Consumption without Consequences" is not sustainable, in other words we understand making purchases without caring about the consequences to the environment, whether here or overseas, needs to change. We realize we need a new model of "Consumption without Consequences", meaning we need to evaluate the impact our purchases have on the environment, and we need to select the products or services that have the least amount of negative consequences. And this is the why PuraKai was created, to help create clothing without negative consequences, or with the least amount of negative consequences possible. 
When I started researching the creation of clothing I was shocked to find out the negative consequences of the agricultural and garment industries, and I was surprised to find out even in 2013, a large percentage of garment and agricultural workers are exploited. And I'm talking about all clothing, from upscale designer clothing to a simple 100% cotton t-shirt. As a life long surfer, spearfisherman, fisherman, and lover of humanity, I knew I needed to create an alternative that would have fewer negative consequences to the environment and for the people who made the clothing.
And this is why I haven't written a blog article for the past four months. I've spent the last four months working to create the best "Made in the USA" organic cotton clothing possible. I've been meeting with farmers, knitters, cut and sew facilities, cotton gins, and every other vendor in the supply chain of making clothing. I wanted to personally visit every facility that created our clothing so I could guarantee our clothing would be made with the highest standards for respecting workers and reducing harm to the environment, and I wanted to reach for a bigger goal, I wanted to use organic cotton grown in California.
I'm sure many people can relate to overcoming obstacles to reach goals, but the challenge for PuraKai was I had been told by numerous experts in the agricultural and garment industries that I couldn't create organic cotton clothing from organic cotton grown in California, that there was no one capable of growing it, then spinning it into yarn here in the USA. However we could use organic cotton yarn from overseas and then knit, cut, sew, and dye our clothing in the USA, so it wasn't like we didn't have some of the supply chain available.  
Early in my research I found two small companies that were doing were doing it in other states, both SOS from Texas and TS Designs from North Carolina were making t-shirts from organically grown cotton in their states, so I figured if these companies could do it I could too, and if there wasn't someone growing California Organic Cotton today I would find a farmer that I could partner with to grow it for me. There are 750 cotton growers according to the California Cotton Growers Association, and according to the California Cotton Ginners Association there are 24 organizations that operate 37 cotton gins. As every cotton farmer must have their cotton ginned I decided to call every cotton gin in California to see if they were certified to gin organic cotton, and if they were, if they knew of a farmer I could work with to grow organic cotton.
As luck would have it the indutry experts were wrong, my search turned up the one and only cotton farmer out of the 750 that grows organic cotton. That was good news right? Well actually the farmer told me his organic cotton was contract grown for an overseas supplier, that the best case was we could grow organic cotton in April of next year, but after calling each week to see if he had any extra cotton, visiting his farm, and a bit of outright begging, he agreed to sell me some organic cotton (which will be used for PuraKai's upcoming Kickstarter Campaign).
And it turns out this is not just organic cotton, this organic cotton is the longest, strongest, best wearing cotton on the planet, the type that the overseas clothing manufacturer turns into $400 polo shirts. And since we use the highest quality organic cotton grown overseas replacing it with California organically grown cotton will meet or exceed the softness and comfort of our existing fabric, making the transition seemless. 
According to Cotton Inc., an industry trade group. "75 percent of men's clothing is 100-percent cotton, and 40 percent of women's clothing is all cotton. However, 60 percent of women's clothing contains a cotton blend.". As cotton is the primary fiber for making the majority of clothing, PuraKai now has a great opportunity to change the way people think about clothing, and more importantly the health of our waterways. This is because according to the Organic Trade Association, "Cotton is considered the world's 'dirtiest' crop due to its heavy use of insecticides, the most hazardous pesticide to human and animal health. Cotton covers 2.5% of the world's cultivated land yet uses 16% of the world's insecticides, more than any other single major crop". 
And believe it or not, even though California has some of the most stringent environmental standards for businesses, non-organic grown cotton in California, whether GMO or conventional, is anything but environmentally friendly, in fact the fertilizer nitrates, herbicides, pesticides, and defoiliants are some of the greatest sources of pollution to our waterways.
Which might lead one to quickly assume the farmers are to blame, but after talking to many, many farmers, the one thing I have learned on this journey is they don't deserve the blame for the pollution their farms generate. The true reason is apathetic consumers that are looking for the lowest cost clothing. I've learned my fellow consumers and I are complicit in polluting the waterways, because we haven't made a connection between the clothing we wear and a plant that is grown with chemicals. 
Farmers need to be able to make a living, they grow crops that can provide enough money to feed their families. In order to harvest a crop of cotton and make a living, cotton farmers are required to use pesticides, herbicides, and GMO's, even our one organic cotton farmer grows GMO cotton in addition to organic cotton. There is no one that exclusively grows organic cotton, because we consumers have not created a big enough demand for it, yet.  
I believe if we can make the case to consumers that the cost of cheap cotton actually costs more in the long run, because the cost of returning the biodiversity and nutrients to the soil and the removal of harmful chemicals and toxins from our waterways are not accounted for in the price of cheap cotton, then we can start to move the needle. Consumers can drive the process to improve the health of our soil and reduce the pollution from our farms. 
Becoming a farmer never crossed my mind when I decided to create a clothing company, but it looks like we're headed that way, at least through a contract relationship. In the mean time we're making our Amazingly Comfortable clothing from the highest grade of organic cotton grown overseas, it's grown with the highest level of oversight from the International Working Group on Global Organic Textile Standards (GOTS), which is the best we can do without growing it ourselves. However someday soon we'll be able to complete the supply chain for clothing that is 100% grown, ginned, spun, knitted, cut, sewn, dyed, and shipped from right here in the USA, providing much needed jobs, and helping to heal and protect the oceans, lakes, rivers, and streams. 
We hope you can support PuraKai in the coming months and years. And please stay tuned for our Kickstarter Campaign coming soon. We hope to earn your trust and accomplish our goal of not only creating Amazingly Comfortable clothing grown and sewn 100% in the good old USA, but to donate $1 million over the next ten years to worthy charities. Currently we're supporting two worthy non-profits, the Billion Baby Turtle Project and the San Diego Coastkeepers, through our affiliation with 1% for the Planet. We hope you can support them too.