Article: Custom Cave Man - Eco-Board 4910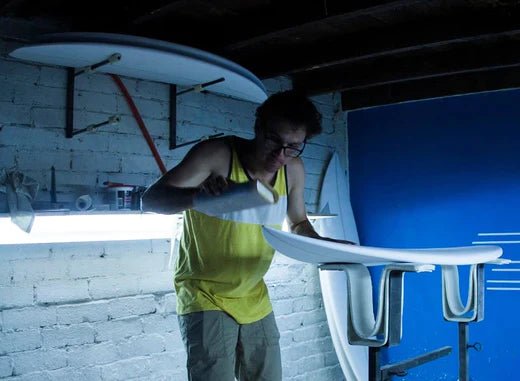 Custom Cave Man - Eco-Board 4910
Customer: Head Shaper - Jose Sariana
Board: What does PuraKai's Head Shaper Jose Sariana ride? Most mornings you'll find Jose paddling out before work at one of Northern Baja's punchy hollow beach breaks. For this type of surf Jose likes a slightly wider nose and tail than your typical performance board, which is how he came up with the template for The Cave Man. 
Blank: Marko EPS Enviro-Blank with 25% Recycled Content     Stringer: Bamboo
Resin: Entropy Super Sap Plant Based Bio-Resin     
Top Glassing: 6 ounce and 4 ounce E-cloth Bottom Glassing: 4 ounce E-cloth
Dimensions: 5'9'' x 18 3/4 x 2 5/16   Volume: 26.3 liters  Fin Set-up: FCS Tri-Fin 
Sustainable Surf Eco-Board Certification Serial #: 4910
Custom Chaneque Fish - Eco-Board
Rich is a teacher in La Jolla and he surfs mostly point breaks in Baja on the weekends and summer. He was looking for a fish that was little bigger and had a little more volume than the 5'10" he ha...
Read more